As I was browsing Pinterest adding things to my Christmas wish list I thought it would be a good time to make a little gift guide, some things that would be perfect for the food lover in your life. You can also buy me all of these things, if you'd be so kind:
Diana Henry – Change of Appetite
One of my favourite cookbooks of the year, Change of Appetite is beautifully written and photographed, but above all the recipes are fantastic. I was lucky enough to go the signing earlier this year, and meet the lady herself. Diana is a wonderful, insightful cook and I really admire her approach to this book.
My favourite recipes are the miso glazed aubergine, slow roast tomatoes with labneh, pomegranate cake, and most of all the kale pesto linguine. Perfect for a foodie who likes to try new things and the light foods in the book will definitely appeal after the Christmas excesses.
Pump Street Bakery Chocolate
Bean to bar chocolate made in Orford, Suffolk at the delicious Pump Street Bakery. Their chocolate is now widely available, especially in East Anglia, but also online. The chocolate is incredibly good quality, the Sourdough and Sea Salt is particularly great. Available locally at The Shelford Deli and online here.
Nigella Lawson – Gingham Kitchenware


Nigella's latest kitchen range is simply beautiful, and so functional. I love the tall red mugs and the rounded cappuccino cups.
Bookishly Print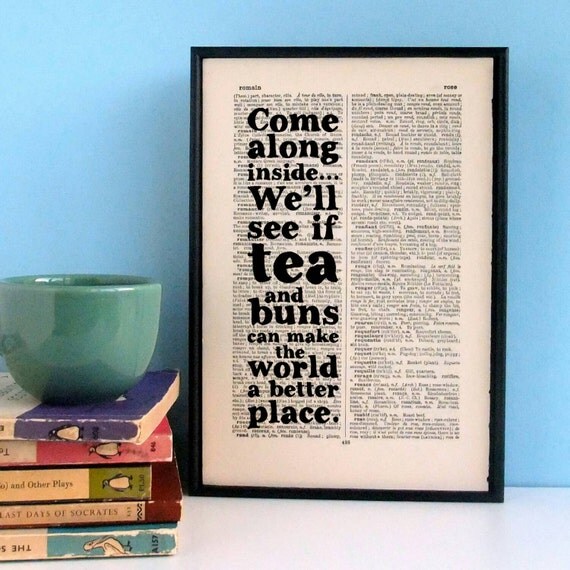 I have this print from Bookishly and it always cheers me up, it's such a nice sentiment. Bookishly have a huge range of book page prints with text ranging from Geek Chic to Shakespeare.
John Lewis Champagne Saucers

I don't know why I got so obsessed about finding the right coupes earlier this year, but I did, and I found some eventually in an antique shop in Saffron Walden. Since buying them I've seen them everywhere (typical) and I spotted these beautiful gold rimmed glasses in John Lewis last week – very festive and perfect for champagne or a cocktail any other time of the year too. They're a steal at £3.50 each too.
Kandula Tea
The best tea you can buy, Kandula Tea are based in Cambridge and Norfolk and blend a wide range of wonderful teas – everything from your staple English Breakfast to their unique Pink Ceylon Tea. I've been drinking their teas for many years and I love the quality – the peppermint tea is the mintiest (is that a word?) around, and the English Breakfast is fresh and strong. Buy online here.